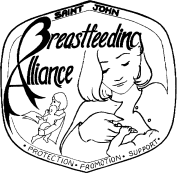 The Saint John Breastfeeding Alliance is a non-profit organization, which exists to protect, promote, and support breastfeeding in the Saint John area.
Members include volunteers from the community, including breastfeeding mothers, health professionals, and educators.
We hope to:
Help make Saint John and area more breastfeeding friendly;
Enhance and increase support available to breastfeeding mothers;
Promote breastfeeding as a natural process, and breastmilk as the ideal source of food for baby;
Educate health professionals, parents, and our community about the unique benefits of breastfeeding to both infant and mother.